I am Gabi Haak (née Geisler) and live Düsseldorf. I was born in a small town called Prüm in the Eifel, close to Luxembourg and Belgium. Early on, I was inspired by people who work for others in the so-called Third World. As a child, the desire to go into development aid grew constantly. But somehow my life turned out differently and I have been working in a big company for over 30 years now. I enjoy my work a lot, but the longing for development aid has never stopped.
When my oldest niece travelled to Ghana with her school at the age of 14 to teach English and help build a classroom, the desire was irrepressible. So I started looking for ways to participate in such a project also as an adult. After endless researches in the internet I found an organization which could realize my wishes.
In October 2014 it was finally done. My adventure began. At that time I did not know that this would not remain a one-off event. I was just full of tension. I had decided to start a project in which I would work for four weeks in an orphanage in Jinja. Jinja is located directly on Lake Victoria in Uganda.
From the very beginning I felt that it was my purpose to help in this orphanage. I immediately felt at home and have been able to establish a close relationship with many of the children. I quickly realized that I couldn't just walk away after my stay as if it was only a four-week adventure. I took these children and all the people around this orphanage deeply to my heart.
In the next three years I was able to inspire more and more people for my heartfelt project. I was overwhelmed by the extent to which it grew in such a short time. Not only donations of money and goods grew steadily, but also the interest in active cooperation. In these three years many projects have been realised, e. g. the completion of a kitchen building for Sonrise Baby's Home, the completion of a protective wall around Sonrise Baby's Home, support for the construction of a school building with 8 classrooms for the Sonrise Children's Home, support for the construction of a new residential building for the Mirembe Cottage of Street Girls, the purchase of large quantities of medical equipment, and the construction of a new school building for the Mirembe Cottage of Street Girls.
In 2017 I came to a point where I had to decide whether I should take the step to become an official association. I needed help and support in every respect to cope with the ever more labor-intensive organization of my voluntary work. Thanks to many wonderful people around me – on July 19th, 2017 it was finally done. This was the day on which our non-profit association Peace's Hope e. V. was founded.
Founding members: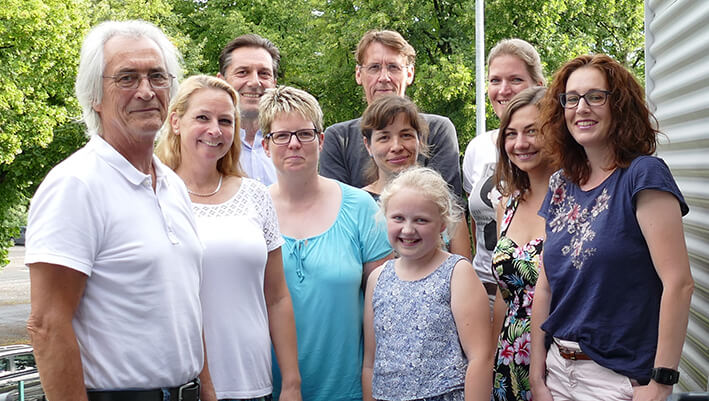 From left to right:
Manfred Kirchhoff, Gabi Haak, Warren Weidhorn, Nina Jungholt, Bernd Farber, Guadalupe Sanchis Otero, Marion Schwenker, Nina Fitschen, Silvana Pölitz
(Lea in the front, daughter of our founding member Nina Jungholt)